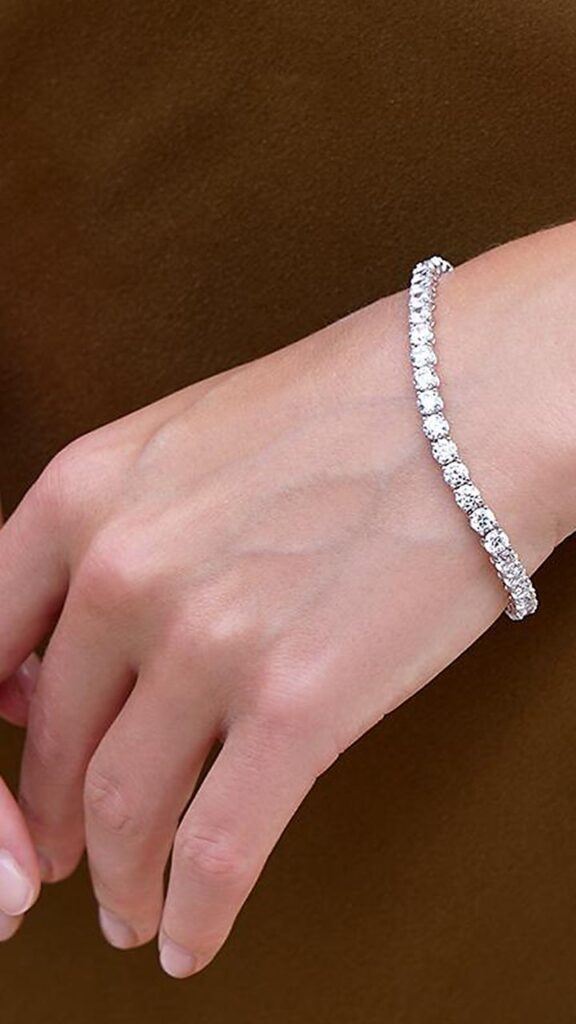 Sometimes there are nice surprises, and other times there are REALLY lovely surprises, and as it's my birthday this week, I was lucky enough to receive well……pretty much both.  The surprise of the gift was nice, but the gift itself was a really lovely surprise. And most unexpected.
My other half works away during the week, and we both knew he would not be around to personally give me a birthday gift. A fact which I'm sure threw him into a mild sense of panic, and many hours scouring the internet for something suitable to have delivered to me.
By something suitable, I obviously mean something with a hint of romance and sparkle, not something delivered in a supermarket branded van, in a plastic carrier bag, a mistake I might add which has happened before, just the once!
My birthday present arrived, beautifully presented in a slim grey box, secured with a branded ribbon, and inside was a lovely  sparkly tennis bracelet
I have quite small wrists, and it just suits me perfectly. It's really pretty and catches the light and almost dazzles on my arm. The stones are very neat, but also clean and perfectly formed.  I think the bracelet works well as an everyday bracelet, but also as a gorgeous accessory on a posh frock occasion.
The clasp is surprisingly strong considering it is on something which is otherwise so delicate. It is doubly secure and I can't see it ever coming undone by accident or even if you were to catch it on something.
I wanted to see what other jewellery was in the collection, you know, just in case I wished to add to my own newly acquired piece, and found that I am now amongst a hallowed following of such celebrities as Lady Gaga, Emma Willis, Courtney Love, Pixie Lott, Lily Allen, Ellie Goulding, Lucy Watson, and Alesha Dixon, to name a few. Well, this made my gift even more special!
The CARAT LONDON website is in itself a thing of beauty. The images are lovely and the I've already spent far too much time looking at rings, necklaces, and earrings It explains the back story of how these stunning items came to be.
There is so much to choose from, and I already have my eye on a few items, and of course, I can drop helpful hints to my other half in case he is ever lost for ideas in the future!